BECOME AN AUTHORITY IN EMOTIONAL INTELLIGENCE!
MHS EQ-i 2.0 and EQ360 CERTIFICATION by LRT Consulting
By signing up our EQ-i 2.0 Certification, you will be trained to assess, develop and coach effectively emotional intelligence of internal and external clients.  MHS implements a standard certification process for EQ-i 2.0 and EQ360.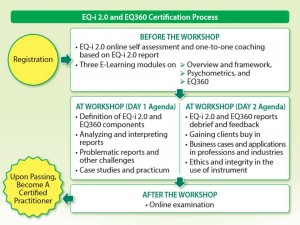 WHO SHOULD ATTEND:
Professionals involved in HR, Executive Recruitment, Organizational Learning & Development, Human Capital Development. Coaches, Consultants, Career Counsellors, Individuals involved in Education, Social Work, Health Care and Psychology
LANGUAGES:
Default language medium of the Certification Workshop and training materials is English. Workshop conducted in Cantonese or Mandarin is available.
INVESTMENT:
HK$18,500 per participant. A 10% discount (HK$16,700) is applicable for early bird registration or groups from 3 persons onwards from the same organization. Certification investment includes the following:
3 Pre-course e-learning modules
EQ-i 2.0 report and debrief session
2-day certification workshop
Participant Manual & EQ Edge book
Online examination
Upon Passing of Examination:
EQ-i 2.0 & EQ360 certificate
MHS online EQ-portal to generate reports and access updated EQ resources
Ongoing support by LRT Consulting
Approved by the International Coach Federation (ICF) for the following CCE credits: Core Competencies 9.25 and Resource Development 6.75