BECOME AN AUTHORITY IN EMOTIONAL INTELLIGENCE!
MHS EQ-i 2.0 and EQ360 CERTIFICATION by LRT Consulting
The EQ-i 2.0 is the world's first scientifically validated Emotional Intelligence (EI) assessment test developed by Multi-Health System Inc. (MHS). It is widely adopted by different industries, governmental, educational and health care institutions in the globe for leadership and talent development, training, selection, retention, coaching and counselling. Today, there are millions of EQ-i 2.0 users and thousands of EQ-i 2.0 certified practitioners around the world.
To help professionals and organizations in Hong Kong and Asia be able to use EQ-i 2.0 and EQ360 solutions, LRT Consulting is committed to conduct EQ-i 2.0 and EQ360 Certification on a regular basis. By signing up our EQ-i 2.0 Certification, you will be trained to assess, develop and coach effectively emotional intelligence of internal and external clients.
MHS has a standard certification process for EQ-i 2.0 and EQ360 globally. The Certification is made up of e-Learning modules, EQ-i 2.0 self assessment and one-to-one debrief, in-class workshop and online examination.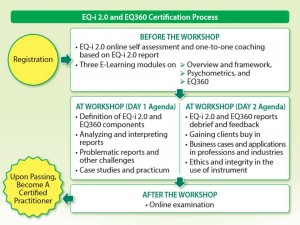 APPLICATION AREAS:
Leadership Development, Career Counselling, Succession Planning, Executive Coaching, Selection and Talents Pool Management, Training & Development, Organizational Consulting, Education (students, teachers, school leaders)
WHO SHOULD ATTEND:
Professionals involved in HR, Executive Recruitment, Organizational Learning & Development, Human Capital Development. Coaches, Consultants, Career Counsellors, Individuals involved in Education, Social Work, Health Care and Psychology
LANGUAGES:
Default language medium of the Certification Workshop and training materials is English. Workshop conducted in Cantonese or Mandarin is available.
OUTCOMES OF INVESTMENT IN CERTIFICATION:
By investing in the Certification, you and / or your organization will achieve the following outcomes upon successful completion of requirements:

INVESTMENT:
HK$17,800 per participant. 10% discount (HK$16,000) is applicable for early bird registration or groups from 3 persons onwards from the same organization. Certification investment includes the following:
3 Pre-course e-learning modules
EQ-i 2.0 report and debrief session
2-day certification workshop
Participant Manual & EQ Edge book
Online examination
Upon Passing of Examination:
EQ-i 2.0 & EQ360 certificate
MHS online EQ-portal to generate reports and access updated EQ resources
Ongoing support by LRT Consulting
Approved by the International Coach Federation (ICF) for the following CCE credits: Core Competencies 9.25 and Resource Development 6.75